GRAPHIC WORKS FROM YEARS 1904 – 1968
PABLO PICASSO (1881 – 1973)
16. 12. 2012 – 3. 2. 2013, for great success extended until 13. 3. 2013
The catalogue from this exhibition is available 

HERE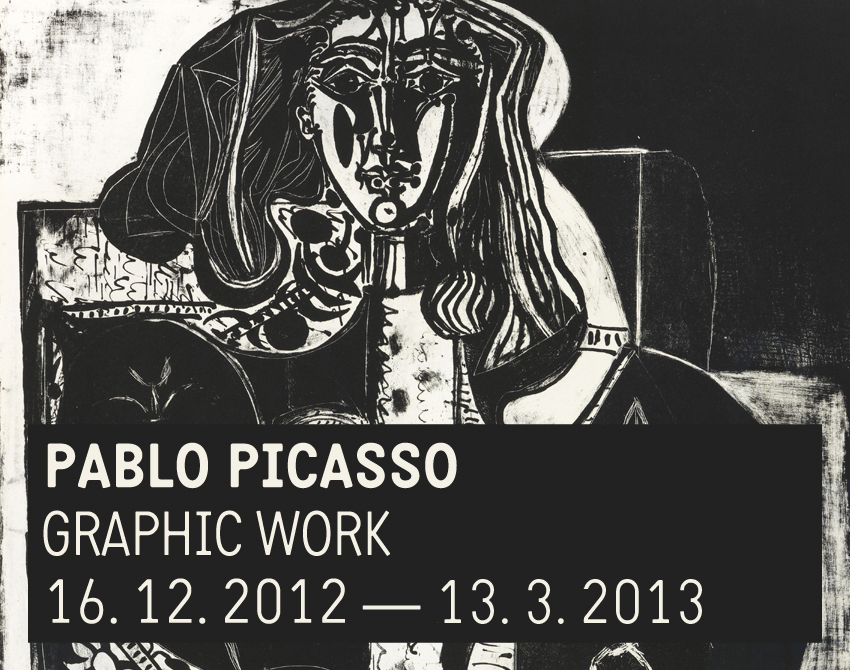 TEXT FOR THE EXHIBITION
Pablo Picasso was born in Málaga in 1881. As a young painter he became one of the top talents of Barcelona's Art Nouveau scene. Spain, Barcelona, Paris – these were the exciting centres of Picasso's world. His move to Paris in 1904, though, was a step towards true fame. The first print shown at the exhibition at MIRO Gallery is dated that same year.
The collection of prints on show may be divided into two parts: Picasso's early prints from 1904 – 1905, and his later prints which, with one exception (his 1934 aquatint Nine Heads), were created from 1947 till 1968.
His early work represents his only series, albeit a spectacular one, of fourteen prints created in 1904 – 1905. These are from Picasso's late Blue Period and early Rose Period. Famed art dealer Ambroise Vollard purchased the printing plates in 1913 and reinforced, printed and published editions of 250 unsigned, unnumbered impressions. The series was called Les Saltimbanques (The Acrobats). One edition is also in the collections of the National Gallery in Prague.
At the start of the new century, Picasso was increasingly attracted to Paris. In 1901, at just twenty years of age, he had an exhibition at Vollard's gallery on Rue Laffitte. Picasso's Blue Period is marked by intense social awareness, depicting beggars, paupers and people from the fringes of society. The Rose Period had a less moralistic tone and the artist remained more of an observer with the world being his theatre or circus. Though these works already brought fame to the young Spaniard, his desire for discovery led him further.
Picasso is primarily known as the founder of Cubism. His impact on Czech art was exceptional, and Dr. Kramář's sophisticated art collecting further fuelled this impact. Cubism became the style of the young generation in the Czech lands and had a unique influence on both fine and applied art as well as architecture. Painter Emil Filla pursued Picasso's Cubism up until the Forties; not even Picasso himself was as faithful to Cubism as Filla.
World War I completely disrupted the arts and even ended many personal relationships. Picasso also set out on new artistic avenues. He viewed new stimuli towards Neoclassicism and Surrealism and developed his experience from Synthetic Cubism and collage in an original manner. He participated in the first Surrealist exhibition in 1925. Surrealist motifs, primarily bodily deformations close in shape to primitive, beastly forms, were a characteristic feature in Picasso's work over the coming decades. Just one print in the exhibition represents the Thirties:Nine Heads, dated 9 November 1934. In it Picasso seems to verify his technical ability to express space by drawing contour lines. He uses the qualities of printing ink to show depth and softness. The arrangement of lined-up picture frames is also reminiscent of satirical prints passionately aimed against General Franco.
In the Forties Picasso created a highly expressive form of Cubism that had a strong influence on post-war art. Of the prints on display, traces of this expressive Cubism can be primarily seen on the large aquatint Egyptian, Torso of a Woman from 1953. Picasso focused on lithography after World War II and made hundreds of lithographs in Fernand Mourlot's Paris studio in 1945 – 1949.
Exceptional creativity, often refuting everything prior, led Picasso to his interest in art history as seen in his variations on paintings by Velázquez, Delacroix and Rembrandt. For the collection exhibited here, however, the most important inspiration is the works of Cranach and Goya. Young Picasso was enchanted by Lucas Cranach the Younger. This is the source of what was for Picasso an unusual static character in several portraits from the Forties and Fifties. These portraits, often distinguished by a dark background, were inspired by stiff, yet psychologically and artistically remarkable Renaissance portraits.
Goya's influence is irrefutable in Picasso's own approach to art. The very awareness that the artist was different from others, that Spain is different from the rest of Europe, bestowed Picasso with the courage and strength to impose his unbridled originality, often in dramatic contrast to French reserve and sophistication.
His most understandable undertakings in this regard are his early works featuring acrobats and beggars and certainly Les Demoiselles d'Avignon – all the more because it depicts not a scene from an idyllic town in Provence, but from an Avignon Street bordello in Barcelona. But primarily there's bullfighting, the world as a stage for both Goya and Picasso, an exciting vestige of mythical times. Picasso continued to return to several themes, and bullfighting was one of these. Picasso's very first print, El Zurdo (the left-handed man) from 1899, depicted a bullfighting scene, a picador whose image is reversed after being transferred from the printing plate and is thus a "lefty".
There are also several prints from 1968 on exhibit. That year, precisely from 16 March till 5 October, he printed 347 prints at Mougins together with printmaker Crommelynck. Most of the prints were on his beloved themes – bullfighting, antique myth, the painter and his model, the circus. Though Picasso was 87 years old in 1968, this was not his last major series of prints; he printed another 156 etchings in 1970 – 1972. Picasso depicted printmaker Pierre Crommelynck in an aquatint from 22 September 1966. This aquatint is also exhibited at MIRO Gallery.
Thirty-three prints have been loaned from a renowned German-Swiss gallery. The prints (etchings, drypoints, aquatints, lithographs and one colour linocut) are listed in the catalogues raisonné of Picasso's prints Picasso Lithographs by Fernand Mourlot and Pablo Picasso: Catalogue of the Printed Graphic Work by Georges Bloch.
Petr Štěpán