RICHARD STIPL – JOSEF ZLAMAL
The exhibition is open daily till 28. 8. 2016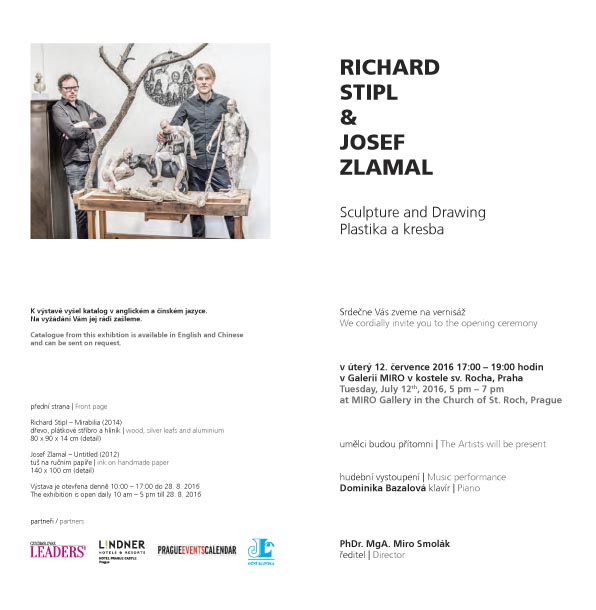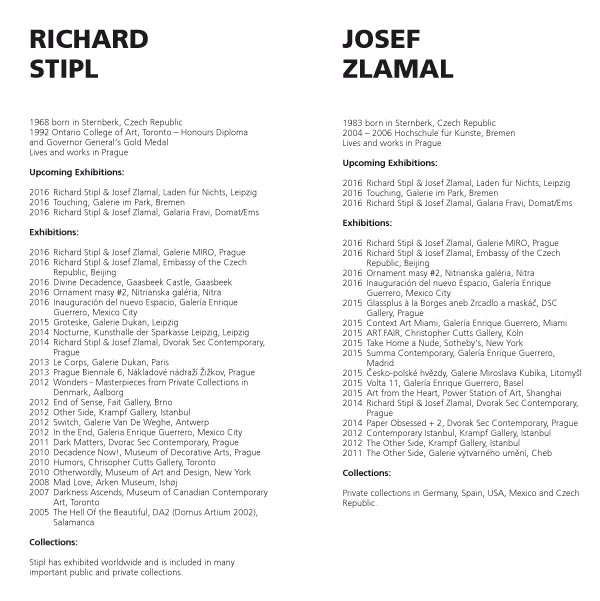 From Beijing to Prague
The Prague Gallery MIRO will exclusively present an exhibition from Beijing by Richard Stipl and Josef Zlamal.
The opening of the exhibition Richard Stipl and Josef Zlamal – Sculpture and Drawing, will take place on July 12, from 5 to 7pm at Gallery MIRO in the church of St. Roch. The exhibition connects seamlessly with the project, which was in June (16. 6.) inaugurated by the Czech Prime Minister Bohuslav Sobotka at the Czech Embassy in Beijing. The exhibition is accompanied by a representative catalogue release. 
Since their last show in Prague two years ago, viewers will now have a unique opportunity to view the current work of Richard Stipl and Josef Zlamal.
The work of the sculptor Richard Stipl and artist Josef Zlamal brings an extraordinary and intense experience that is authentic and reflects the image of human thought and emotion. Their work revives and evolves from a series of citations that can be seen as a search and discovery of joy, contemplation, anxiety and knowledge. The common theme of both authors is the human figure.
Their work uses the universal language that will appeal to anyone who is looking and thinking about their own existence.
International success and creative capacity of both authors is confirmed not only by their wide geographic exhibition range (spring 2017 an extensive exhibition in Mexico City) and art fairs (Art Brussels, FIAC, Volta Art Fair Basel, Frieze Art Fair in London, Art Dubai, ARCO, Contemporary Istanbul etc.) but also by the fact that aside from a large representation in international collections they are also well known to the most important Czech collectors, such as the Lettenmayers, who own both of the author's several major works.
Although these two artists operate mainly abroad, their exceptional cooperation began here in the Czech Republic – in Šternberk, where both artists were born. "We first met in 1992, when Richard first visited Czechoslovakia after the revolution; his parents had emigrated with him in 1980 to Canada. So we know each other for more than twenty years, but our joint work was initiated through the exhibition in Istanbul's Krampf Gallery in 2012. It was there that we realised that our work complements and enhances each other well. Since then we have come a long way. Richard's sculpture has now fully meshed with my drawings, we even share a studio. I think we can talk about a real creative symbiosis," says Josef Zlamal.
The project then travels to Switzerland (Galaria Fravi | 2.9.- October 2, 2016), then Germany (Laden für Nichts | 29.10 – Dec. 3, 2016) and Mexico City (Galeria Enrique Guerrero | 7.2 – Apr. 1, 2017).